Biblical Evidences for Pre-Existence of Jesus
Highest Authority - The Words of Jesus Himself
John 8:42 Jesus said unto them, If God were your Father, ye would love me: for I proceeded forth and came from God; neither came I of myself, but he sent me.
John 17:24 Father, I will that they also, whom thou hast given me, be with me where I am; that they may behold my glory, which thou hast given me: for thou lovedst me before the foundation of the world.
John 8:58 Jesus said unto them, Verily, verily, I say unto you, Before Abraham was, I am.
John 6:38 For I came down from heaven, not to do mine own will, but the will of him that sent me.
John 6:42 And they said, Is not this Jesus, the son of Joseph, whose father and mother we know? how is it then that he saith, I came down from heaven?
John 6:51 I am the living bread which came down from heaven: if any man eat of this bread, he shall live for ever: and the bread that I will give is my flesh, which I will give for the life of the world.
John 8:23 And he said unto them, Ye are from beneath; I am from above: ye are of this world; I am not of this world.
Mat 3:17 And lo a voice from heaven, saying, This is my beloved Son, in whom I am well pleased.
John the Baptist Testified of Jesus
John 3:31 He that cometh from above is above all: he that is of the earth is earthly, and speaketh of the earth: he that cometh from heaven is above all.
Jesus claimed to be the Son of God
Mark 1:1 The beginning of the gospel of Jesus Christ, the Son of God;
New Testament Passages about Pre-existence of Jesus
John 1:1 In the beginning was the Word, and the Word was with God, and the Word was God. 2 The same was in the beginning with God. John 1:14 And the Word was made flesh, and dwelt among us,
Phil 2:6 Who, being in the form of God, thought it not robbery to be equal with God: 7 But made himself of no reputation, and took upon him the form of a servant, and was made in the likeness of men:
Heb 3:1 Wherefore, holy brethren, partakers of the heavenly calling, consider the Apostle and High Priest of our profession, Christ Jesus; 2 Who was faithful to him that appointed him, as also Moses was faithful in all his house.
Old Testament Passages/New Testament Fulfillments
Micah 5:2 But thou, Bethlehem Ephratah, though thou be little among the thousands of Judah, yet out of thee shall he come forth unto me that is to be ruler in Israel; whose goings forth have been from of old, from everlasting.
Isa 9:6 For unto us a child is born, unto us a son is given: and the government shall be upon his shoulder: and his name shall be called Wonderful, Counsellor, The mighty God, The everlasting Father, The Prince of Peace. 7 Of the increase of his government and peace there shall be no end, upon the throne of David, and upon his kingdom, to order it, and to establish it with judgment and with justice from henceforth even for ever. The zeal of the LORD of hosts will perform this.
Isa 7:14 Therefore the Lord himself shall give you a sign; Behold, a virgin shall conceive, and bear a son, and shall call his name Immanuel.
(Mat 1:22-23 Now all this was done, that it might be fulfilled which was spoken of the Lord by the prophet, saying, Behold, a virgin shall be with child, and shall bring forth a son, and they shall call his name Emmanuel, which being interpreted is, God with us.)
---
Timeline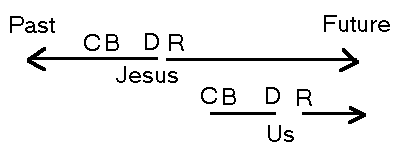 This timeline represents a comparison of our lives and that of Jesus.
C = conception
B = birth
D = death
R = resurrection
We came into existence at our birth. Jesus is eternal.
---
Links
---
Copyright 2000-2001 - Douglas Gilliland